ALL Cars Now come with 3 Months "Premium" Blue Chip Warranty FREE for this Month ONLY!
A warranty can provide important peace of mind for vehicle owners by covering the cost of the maintenance and repairs required to keep the vehicle on the road
Our warranty provider, Blue Chip Warranties, will provide you with a policy that is designed to offer similar protection to that which the manufacturer would have supplied when the vehicle was new.
The protection is against mechanical and electrical breakdown and provides you with peace of mind if any unforeseen issues arise with your car.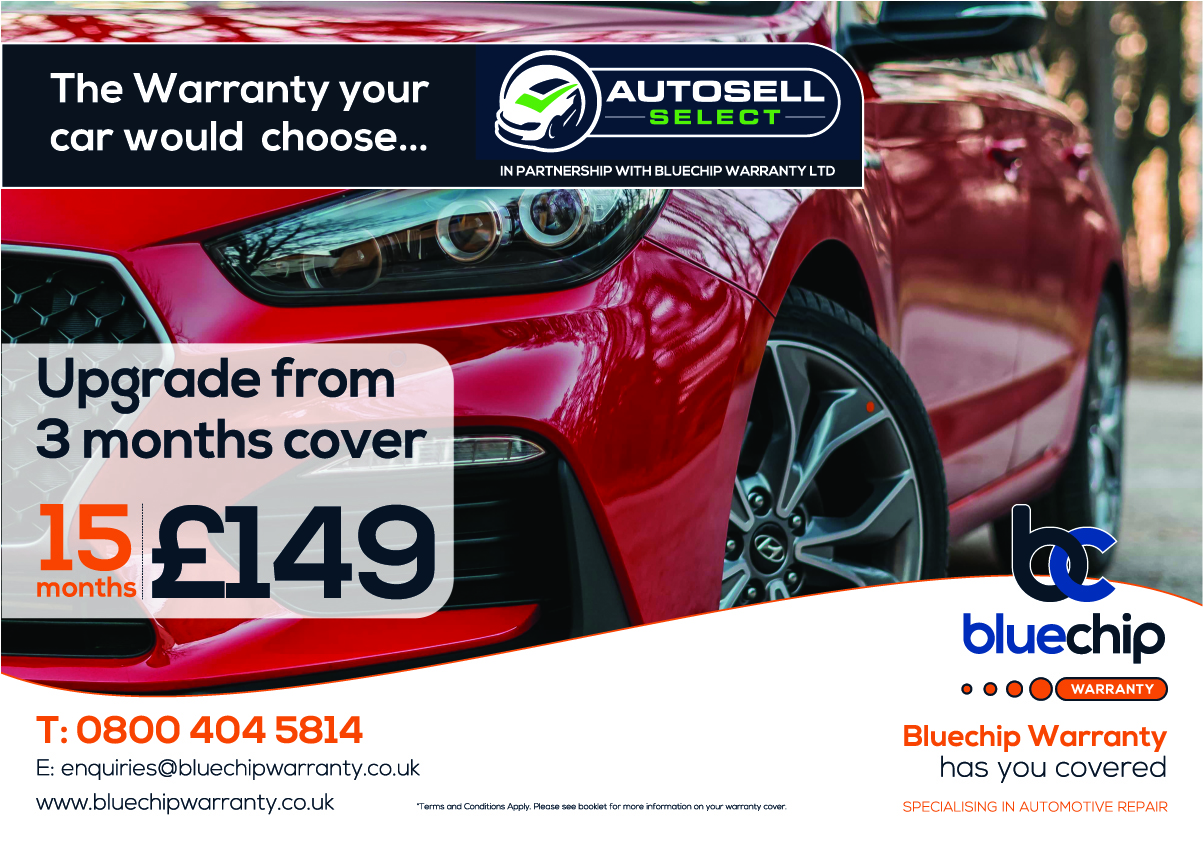 What our customers say about us
Our Reviews
---
Pleasant experience from the get go. Helpful on the phone, answered all of my questions and was very patient - Thanks Dave!
Had a great experience dealing with Autosell Select when buying my new car, Dave answered all my questions and put me at ease, the car was immaculately prepared and so pleased with the car.
Found a car that was on Autotrader and called the dealer, he went through all of the details and everything was as I hoped it was. The car was very clean and had been valeted. I put down a deposit and arranged to collect it a few days later. He was on time when we arranged to pick up the car and up to now I am pleased with my purchase. From start to finish I rate the experience high. Thanks Dave I will definitely use your services again.
Very pleased with the entire process. Dave was both courteous and helpful throughout the purchase of the Jaguar. I also found the price he offered on my outgoing Peugeot to be very fair when compared to another local Dealer I initially approached. The Jaguar is 'purring like a kitten' and I'm very much enjoying it! Many thanks and I will be sure to mention this excellent Company to others who may be looking to buy a 'big cat'!
Very pleased with my new car autosell select we're very professional could not fault the service at all would definitely recommend, car was very clean and drives excellent they even gave it a clean before I took it, many thanks and appreciate everything
I bought my first car from Autosell Select last week. The car was amazing and just what I had been looking for at an affordable price. He was friendly, upfront and honest the entire time and was most definitely not pushy like the few car salesmen I had spoken to. He helped every step of the way which put me at ease since I've never brought a car before. He cleaned the car and delivered the car to me within less than 24 hours. His customer service is amazing with quick swift responses even after buying the car I received quick replies and amazing aftercare as he really does go above and beyond. I would definitely recommend purchasing a car from him.
I bought a Kia Picanto from Dave at Autosell Select, it was for my grandson.He has had the car for about 6 weeks and the car has performed perfectly.It was well presented and was excellent value for the money.
A lovely little car for our daughter. Great find! Nice doing business with a genuine good guy. In the world of second hand car buying you need this sort of trust. Thanks D
Quick and easy, plenty of stock of the type of car we wanted. Very helpful
Very Nice Bloke, good service. We left a £200 deposit and picked the car up a couple of days later, everything was ready for us to collect and a swift and simple transaction
Visiting Us
5.1 miles from Leicester train station